This page is the brochure for your selected program. You can view the provided information for this program on this page and click on the available buttons for additional options.
An HSU Program - Belize Archaeology Field School
Rio Bravo, Belize
(Outgoing Program)
Featured:
There are currently no active application cycles for this program.
An HSU Program - Belize Archaeology Field School
Program Overview
Dates: May 22-June 19 2016
Description
The HSU Belize Archaeology Field School involves survey, excavation at several Maya sites, and laboratory experience working directly with excavated Maya artifacts. Field techniques, lectures on Maya culture history and instruction concerning artifact analysis are provided. The field school is directed by Dr. Marisol Cortes-Rincon.
The project area of the Programme for Belize Archaeology Project (PfBAP) is in northwestern Belize on land owned by the Programme for Belize, a Belizean controlled non-profit organization. The HSU field school works under a permit issued from the Institute of Archaeology to Dr. Fred Valdez, Director of the Programme for Belize Archaeology Project (PfBAP). PfBAP research focuses on the Rio Bravo Conservation and Management Area, a nature reserve of more than 250,000 acres. The research area is home to a great variety of neotropical wildlife, including many birds and monkeys.
What you will learn
Field work requires physical labor, great sense of humor, and a good attitude. You will learn about Belizean cultures, Maya archaeology, and cultural sensitivity, and more. You will attend field school meetings, lectures, to spend many hours in the field taking part in field survey and/or excavations. You also will reflect upon and write about your experiences in a field journal and papers.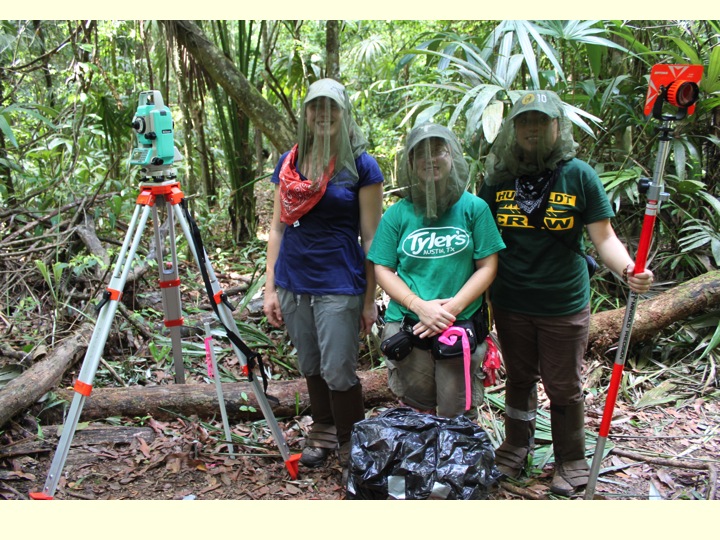 The instructor and teaching assistant will teach you how to carry out survey, excavation, and laboratory techniques. You will be asked to put into practice everything you are learning.
This program has two major interrelated themes. The first theme will be an examination of Belizean cultures via an anthropological viewpoint. Cultural anthropology is one of the four main areas of study within the discipline of anthropology. You will study modern Belizean life ways, the sociocultural history of the country, verbal traditions, and the impact of tourism and development, among other things. You will also become well-versed in cultural sensitivity and intercultural communication.
The second theme — archaeology — includes
practical training in field techniques and classes relating to archaeology and settlement studies. Archaeology is the study of ancient cultures through the analysis of material cultural remains. This field school will serve as an introduction to the basic methods and techniques used in material cultural analysis, and provide you an excellent opportunity for hands-on learning. You will make observations of archaeological finds and learn associated field techniques.
When you finish this program, you should:
have a working knowledge of archaeological methods for field and laboratory research, including survey, excavation, stratigraphic interpretation, dating, classification, and typology.
have learned how archaeologists make inferences about human behavior and practice by recognizing patterns in the distribution, form, and context of material remains.
understand how archaeological records are created and transformed.
understand the major transformations in human prehistory, the sites that are important to their understanding, and the theories archaeologists have proposed to explain them.
have developed a sense of stewardship over the irreplaceable resources of the archaeological record.
understand and reflect upon many cultural practices and the history of the people of Belize.
appreciate the difficulties and joys of living and working in "foreign" cultures and the wisdom such experiences can produce.
Course Structure
The courses include field participation in all activities, lectures, discussions, and field trips to local sites. Many of the lectures in Belize will be held in situ rather than in a traditional classroom setting, and a few talks will be given by various PfBAP researchers. Participation is obviously vital for all courses, so please be there both in mind and body.
Courses (Note: Students must sign up for all courses)
ANTH 485, 1 unit, Cortes-Rincon: Belize Field Program Preparation
ANTH 357, 5 Units, Cortes-Rincon: Field Archaeology
2016 Field School Syllabus_Revised October 18 2015.docx
Field Activities
The field activities take place in a tropical forest environment with poisonous/venomous insects, spiders, snakes, and other animals. Students undergo training prior to and during field excursions on avoiding potential dangers. In addition to being vigilant and avoiding contact with potentially dangerous animals, students are not to walk off trail without supervision and without wearing appropriate clothing (such as high-ankle boots and snake guards).
Students are shown a specific way of walking in the jungle (single-file and a few paces apart from each other). We walk in this manner to avoid falling and tumbling down on top of the next person. It also allows ample time to warn the rest of the team in case of danger. The workers walk ahead of the team, with one staff member in front of the students, the students in the middle, and the other staff in the rear of the crew. No student is to walk trails alone or walk trails in groups without first informing and obtaining permission from the course instructor.
Environmental & Natural Disaster Risks
Belize is potentially subject to tropical rainstorms and subsequently floods. The PfBAP area is located in a tropical wet forest with a lot of rain with high humidity and very humid temperatures. The rainy season in Belize begins mid-June and ending November. Students are cautioned to be prepared for hiking and other outdoor activities in inclement weather (rains), heat and humidity. The field school dates are prior to the beginning of the rainy season to avoid potential weather issues.
Cultural Sensitivity & Student Responsibility
Central to any study abroad program is immersion in a new culture and surroundings, which can be difficult at times. Cultural sensitivity and cultural transition discussions will occur during orientation sessions and will be a dominant theme throughout the program.
Students are expected to act in a mature and responsible manner. The program staff may send home any individual whose conduct, in the opinion of the program staff, is detrimental to the program or to the other students. This includes uncooperative or disruptive behavior, alcohol abuse, illegal drug use, and failure to perform satisfactory academic work. Fees will not be refunded if a student is asked to leave the program early.
The avoidance of any illegal drug use, drug purchase, or drug sales cannot be stressed enough. Belizean officials inflict severe penalties on foreigners breaking domestic laws, especially illegal drug use. Students are cautioned that a foreign passport and ignorance of local laws will not protect them nor is it likely that anyone from the program or the U.S. Embassy/U.S. Government (or other embassies) be able to provide assistance if they are arrested or convicted for drug use or other crimes. An arrest of this nature will endanger the future of the project in Belize and may result in denial of future archaeological permit by the Institute of Archaeology (IoA) in Belize.
Students with Disabilities
Students with disabilities should consult the HSU Student Disability Resource Center (SDRC) in House 71, 707-826-4678, and read about the specific housing and field conditions at the R.E.W. Adams Research Facility before applying. Students are encouraged to meet with faculty to discuss any accommodations needed for the program. Reasonable accommodations may be available for students who have a documented disability. All accommodations must be approved through the Student Disability Resource Center.
Health & Safety
This program will be physically challenging. While in Belize, students are required to hike for many hours daily in very warm and humid weather, while carrying a heavy pack. Students are also expected to be awake and ready for the field before sunrise. We leave for the field from camp at 7:15AM.
Participating students should be in good health, and should have a medical examination prior to departure to Belize. Students are responsible for obtaining all immunizations required by the US Public Health Service for Belize as well as the student's medical condition and history. Students can find information on vaccinations and health precautions at the
Centers for Disease Control and Prevention website
and the
World Health Organization (WHO) web site
.
Medical Facilities
Participants with health issues should be aware that the medical facilities are not the same standard as those in US. Program participants should purchase all prescription medicines needed prior to leaving for Belize, and should bring spare pairs of glasses and/or contact lenses if they wear them. Medical insurance via Wells Fargo Insurance Services for the entire duration of the program is required for each participating student and is paid directly by the student to Wells Fargo. The student may purchase additional coverage (e.g., luggage insurance, etc.) and/or additional length of time if desired.
PfBAP has first-aid kits in the field and large first-aid kits in the laboratory building in camp. Also, there is a nearby clinic for non-threatening illnesses. Medical assistance at the clinic is provided by a registered Mennonite nurse. She has been taking care of students, staff, and volunteers for many years. The course instructor will have her own vehicle to take my students to the clinic as needed. The Mennonite clinic is roughly 15-20 minute drive from camp.
Additionally, Northern Medical Plaza Hospital, located in Orange Walk, has a great facility and offers care for various maladies. The hospital in Orange Walk is roughly a 35-45 minute drive from camp. Belize Medical Associates, located in Belize City, provides excellent health care for any type of ailments. The latter is approximately a two-hour drive from camp.
Doctors and hospitals often expect immediate cash payment for health services, and U.S. medical insurance is not always valid by all Belizean providers. Medical expenses that are covered by the required coverage via Wells Fargo and not billed by the Belize provider may be reimbursed to the student by filing a claim form. Most medical facilities accept credit cards. The Mennonite clinic is very inexpensive; the nurse has government grants to provide health care to the local villages, Mennonite communities, and the various archaeological projects in the Orange Walk vicinity.
Housing
Field school students will stay in the R.E.W. Adams Research Facility (the archaeology camp). HSU participants will share the camp with other field schools from accredited universities. They will have a chance to meet students from other universities that will be conducting research on other sites in the program area. Other field schools will be from other universities including Texas, Illinois, Massachusetts, California, and possibly Europe.
The R.E.W. Adams Research Station is a field camp located in the heart of the tropical rainforest. Facilities include a dormitory, kitchen, latrine, laboratory, and tent platforms. While at R.E.W. Adams Research Facility, students will stay in dormitory style cabin. The dormitory has eight rooms, with two bunk beds in each room. Each room will be occupied by four students. Males and females have separate rooms.
Students also have the option of staying in tents. Each tent will be occupied by two students. Mattresses and/or foam sleeping pads will be provided. Students are responsible for bringing linens, pillows, and mosquito netting.
Electricity is generated by a 10,000 watt generator that runs approximately three hours in the morning to provide light for preparing our breakfast and three hours in the evening for reading and study. Additional light or electricity is sometimes available (on sunny days) from electricity generated by solar panels.
Meals & Special Nutritional Needs
Program costs paid by students cover the cost of breakfast, lunch, and dinner. Meals are served at pre-set times in the morning, afternoon, and evening in a cafeteria-style setting. Meals generally include meat, rice and beans, and various side dishes (including fruit and/or vegetables).
Vegetarian options are available for most meals. However, it may be difficult to accommodate strict vegan diets, so be sure to inquire about this prior to applying if this is crucial to you.
During work days, we pack our lunch immediately after breakfast and eat in the field.
Water & Drinks
The only drinking water in camp is available from the taps in the back of the cafeteria and it is available at all times. There is also bottled water available for purchase in the cafeteria.
The hot weather can also cause water loss which can lead to serious dehydration. We encourage our participants to always carry water bottles when out in the field and to be sure to take sips of water continuously throughout the day. Everyone is expected to pack at least 4 bottles of water for the field (1 gallon total per person).
Additionally, during meals, there is a variety of free juice available (made with purified water).
The Maya, Seventh Edition (Ancient Peoples and Places). Coe, Michael D. Thames and Hudson. 2005.
Course Packet (series of articles on survey procedures and archaeology field techniques)
Belize in Focus: A Guide to the People, Politics, and Culture. Peedle, Ian. Interlink Books. 1999.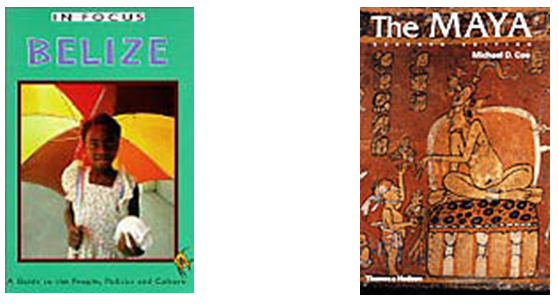 Students are required to
register with the State Department prior to leaving for Belize at the website
.
The Political Climate of the Country/Location
The information below was accessed on September 05, 2010 from: http://www.state.gov/r/pa/ei/bgn/1955.htm
Government
Belize is a parliamentary democracy based on the Westminster model and is a member of the Commonwealth. Queen Elizabeth II is head of state and is represented in the country by Governor General Dr. Colville N. Young, Sr., a Belizean and Belize's second governor general. The primary executive organ of government is the cabinet, led by a prime minister (head of government). Cabinet ministers are members of the majority political party in parliament and usually hold elected seats in the National Assembly concurrently with their cabinet positions.
As of September 05, 2010, there are no travel warnings or alerts for Belize. Updated information can be obtained via
U.S. Department of State, Bureau of Consular Affairs website
.
U.S. Embassy in Belize
Floral Park Road
Belmopan, Cayo
Telephone: (501) 822-4011 (501) 822-4011
Fax: (501) 822-4012
Email: ACSBelize@state.gov
BUSINESS HOURS:
Monday to Friday
8:00 a.m. to 5:00 p.m.
Closed on U.S. and Belizean Holidays
http://belize.usembassy.gov/index.html
The Embassy of the United States of America serves as the focal point for the U.S. Mission and is the primary federal agency leading foreign relations in Belize on behalf of the U.S. Government. In addition to the various sections of the Embassy, there are also other U.S. Government agencies working in Belize.
Scholarships
Marisol Cortes-Rincon
Office: BSS 538
Phone (707) 826-4335
Faculty profile for Marisol Cortes-Rincon
E-mail Instructor
HSU Offices
College of e-Learning & Extended Education
2nd Floor Student & Business Services Building
Phone: (707) 826-3731
Email: extended@humboldt.edu
Website: http://www.humboldt.edu/~extended/
Center for International Programs
Feuerwerker House (House 13)
Tel: (707) 826-4142
Email: internat@humboldt.edu
Website: http://www.humboldt.edu/goabroad