This page is the brochure for your selected program. You can view the provided information for this program on this page and click on the available buttons for additional options.
An HSU Program - Costa Rica Primate Field Program
San Jose, Costa Rica
(Outgoing Program)
Featured:
There are currently no active application cycles for this program.
An HSU Program - Costa Rica Primate Field Program
Learn about New World primate behavior, ecology and conservation, primatology field techniques, Costa Rican culture, current issues affecting Costa Ricans and their flora and fauna, and cultural sensitivity, among many other things.
Dates for 2015: May 26th - June 15th
Program Overview
Program Description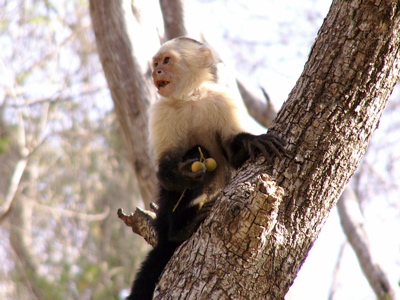 Humboldt Now article: "The Jungle as the Classroom."
"We had incredible sightings, studying [primate] locations in the canopy, their behavior and vocalizations, their group composition and diet," reports student Rani Ram. Read the Humboldt Now article about student Rani Ram's experience.

"Studying in Costa Rica was by far one of the most influential events of my time at Humboldt State University. Not only was the journey wonderfully challenging and educational, but it was also incredibly fun! The friends I have made and the adventures we had will be warm thoughts that I'll have for the rest of my life. I learned so much on this program and I am sincerely thankful that I was able to have this experience!" says student Reid Jackson.
You are about to embark on an intense, full immersion experience. This program will be rigorous, both physically and academically. You will be challenged to know, understand, and appreciate the diversity of form and function of organisms, and the interactions that generate the often spectacular patterns you will see in the field. We will pursue research topics such as New World primate behavior, ecology and conservation, primatology field techniques, current issues affecting Costa Ricans and their flora and fauna, and cultural sensitivity, among other things. The schedule is full, including fieldwork, laboratories, lectures and discussions, with an emphasis on original research. Accordingly, you will be required to attend all lectures, to spend many hours in the rainforest looking for primates, and to conduct your own primate behavioral observation research projects at the La Selva Biological Station in Costa Rica. You also will reflect upon and write about your experiences.
These will probably be unlike any other courses you have had. Learning will not be limited to in-class lectures, and you will be asked to put into practice what you are learning. We will ask you to assimilate what you are experiencing through observation, data collection and analysis, writing, reflection, and discussion.
Upon successful completion of this program, students will have demonstrated ability to:
Conduct basic tropical rainforest primatology field work and understand which techniques work best for different environmental conditions (Course Outcome).
Understand basic rainforest ecology (Course Outcome).
Reflect upon the pros and cons of 'sustainable development' in light of ecotourism and rainforests (Course Outcome).
Appreciate the difficulties and joys of living and working in "foreign" cultures and the wisdom such experiences can produce (Course Outcome).
Think critically and apply the scientific method (Anthropology Outcome)
Competence in a major area of study (HSU Outcome)
Appreciation for and understanding of an expanded world perspective by engaging respectfully with a diverse range of individuals, communities and viewpoints (HSU Outcome),
Courses offered
The program offers two classes totalling 6 units:
ANTH 339: FIELD PRIMATOLOGY IN COSTA RICA
This course provides an introduction to the living nonhuman primates at the La Selva Biological Field Station and training in primate behavioral data collection field techniques. We will also discuss primate and rainforest conservation in light of ecotourism issues and development in Costa Rica.
ANTH 339: ECOLOGICAL RESEARCH & CONSERVATION IN THE TROPICS
This course provides an introduction to the habitats of the three New World primates you will be studying (howler, spider and capuchin monkeys). Topics include plant-pollinator and plant-herbivore interactions, rainforest nutrient cycles, deforestation and fragmentation effects, interspecific competition and ecological field methods.
Required Books
Patterson, J. D. 2001. Primate Behavior: An Exercise Workbook, 2nd edition. Waveland Press.
Kricher, J.C. 1999. A Neotropical Companion: An Introduction to the Animals, Plants and Ecosystems of the New World Tropics. Princeton University Press.
Hunter, L., and Andrew, D. 2002. Watching Wildlife: Central America. Lonely Planet Publications. (use as a reference)
Wallerstein, C. 2007. Culture Shock! Costa Rica: A Survival Guide to Customs and Etiquette. Marshall Cavendish Corporation.
Instructors and staff
Gillian Moritz (Director) is a lecturer in the Department of Biological Sciences at Humboldt State University. Gillian studied Ecology and Evolutionary Biology at Dartmouth College and has extensive experience in tropical field ecology and primate behavioral ecology in Central and South America and Southeast Asia. She has participated in several field courses across sites in Costa Rica including La Selva as both a student and instructor. For the 2015 program, she will lead all aspects of this course including lectures, field exercises, travel logistics to and from Costa Rica and supervision of students while in Costa Rica.
Marissa Ramsier is a lecturer in the Department of Anthropology at Humboldt State University and is the Director of the Center for Evolutionary Anthropology. She holds an PhD in Anthropology from the University of California, Santa Cruz. Dr. Ramsier has extensive experience in the course topics and in primate fieldwork, in Central and South America and Africa. She co-directed the first two HSU Costa Rica Primate Field Programs at La Selva. For the 2015 program, she will serve mostly an administrative role in program development and logistics.
Mareike Janiak (teaching assistant) is PhD student in Evolutionary Anthropology at Rutgers University, where she is working as a TA and studying digestive adaptations in New World primates. She received her BA from the University of Texas in Austin and took a primate field course at La Suerte in Costa Rica as an undergraduate. Previous research has also taken her to Kenya, but for her dissertation she is conducting a multi-site project across Central and South America.
Preliminary Program Itinerary
Applications:
Available beginning Jan 2015, due by March 9, 2015.
Deposit due:
April 2nd, 2015
Full fees due:
May 1st, 2015
Online Prep Work:
Available beginning March, 2015, due by May 25, 2015.
· 25 hours of prep work on primatology, tropical ecology, conservation, international travel preparation and introductory lectures about Costa Rica and the field site. This will include summaries of readings and some online worksheets/exercises that can be completed independently on your own schedule.
In Costa Rica:
· May 26: Students and staff arrive at San Jose National Airport, San Jose, Costa Rica. Students are responsible for arranging their own travel to Costa Rica and for paying costs associated with this travel. Once in Costa Rica, students are to acquire and pay for land transportation to Park Inn Hotel in San Jose. Taxis are readily available at San Jose National Airport. TAs will meet students at the Park Inn Hotel, where they and the students spend the night. Note: Students responsible for purchasing their own meals on May 26 - program fees cover lodging beginning May 26 and meals beginning May 27.
· May 27: Group travels together from Park Inn Hotel to La Selva (by bus).First field day commences with orientation, tours, etc.Students will stay in dormitory style field cabins, with male and females having separate dorms.
· May 28 – June 11: Students are in field / lab / lectures Monday through Saturday. Sundays are free for recreational and touring activities.
· June 12 – June 14: Students and TA's take an OTS bus from La Selva to Tortuguero National park, where they will spend three days and two nights studying the primates and tropical ecology in the area.
· June 14: End of program. TAs and students take a Tortuguero bus back to Park Inn Hotel (lodging paid through program fees). Closing Ceremony. Students are responsible for covering the costs of meals after breakfast on June 14.
· June 15: Students depart to the airport or other (course unrelated) destinations. Students are responsible for arranging their own travel from this point forward. TAs can assist students with arranging for taxi transport for students to the airport, if the students request help. Note: Students are responsible to pay exit fees when leaving Costa Rica (estimate $29)
Post- Costa Rica Assignments:
Due by July 15, 2015
· After completing the field program, you will be asked to complete a final write-up of your field research project. This should be written in the form of a scientific paper, and include an abstract, introduction, methods, results, and discussion. Include at least two professional-level figures in your paper. Please upload this final paper to Moodle no later than July 15, 2015. It is estimated that it will take a minimum of 45 hours to complete analysis of your data and write your paper. Conceive of this as a research paper you could potentially use as a writing sample for graduate school or your portfolio.
Field Conditions
STUDENT HOUSING
At the beginning and end of the field portion of the program, students will spend the night at the Park Inn Hotel in San Jose, Costa Rica.
The hotel has all standard amenities and may be viewed at its website.
While at the La Selva Biological Station, students will stay in dormitory style field cabins, with two to four students per cabin. Each cabin has two to three bunk beds, a work desk, and lockable storage cabinets.
Every two cabins share a restroom facility, which consists of a toilet, two sinks, a shower with hot and cold water, and soap and paper towel dispensers. Males and females have separate cabins and restrooms.
While at Tortuguero, students will stay at the
Mawamba Lodge
.
MEALS
Program costs paid by students cover the cost of breakfast, lunch, and dinner. Meals are served at pre-set times in the morning, afternoon, and evening in a cafeteria-style setting. Meals generally include meat, rice and beans, and various side dishes (including fruit and/or vegetables). Vegetarian options are available for all meals. Additional snack items are available at the gift shop.
At La Selva, water is drinkable from the tap and is available at the cafeteria at all times. Ice is also available. During meals at La Selva, fresh juice is available.
DISABILITY ACCOMMODATIONS
Students with disabilities should consult the
Student Disability Resource Center (SDRC)
in House 71, 826-4678, and read about the specific housing and field conditions at the La Selva Biological Station before applying.
Students are encouraged to meet with faculty to discuss any accommodations needed for the program.
Reasonable accommodations may be available for students who have a documented disability. All accommodations must be approved through the
Student Disability Resource Center
.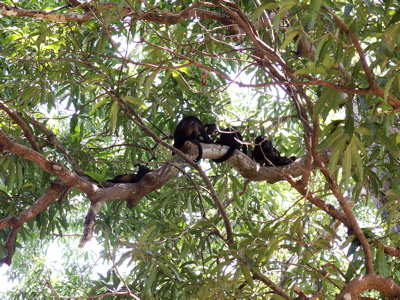 Travel & Preparation
VISA & IMMIGRATION REQUIREMENTS
United States citizens are required to obtain passports for entry into Costa Rica.
Students are to obtain passports independently and to provide the course instructors will photocopies of their passports.
Students who are not U.S. citizens are responsible to obtain all necessary documents and permission to allow them to participate in the Costa Rica portion of the course.
The following information was obtained from the
U.S. Department of State, Bureau of Consular Affairs website
:
"For entry into Costa Rica, U.S. citizens must present valid passports that will not expire for at least thirty days after arrival, and a roundtrip/outbound ticket. Some U.S. airlines may not permit passengers to board flights to Costa Rica without such a ticket. Passports should be in good condition; Costa Rican immigration will deny entry if the passport is damaged in any way. Costa Rican authorities generally permit U.S. citizens to stay up to ninety days; to stay beyond the period granted, travelers must submit an application for an extension to the Office of Temporary Permits in the Costa Rican Department of Immigration. Tourist visas are usually not extended except under special circumstances, and extension requests are evaluated on a case-by-case basis. There is a departure tax for short-term visitors. Tourists who stay over ninety days may experience a delay at the airport when departing. Persons who overstayed previously may be denied entry to Costa Rica. Persons traveling to Costa Rica from some countries in South America and Sub-Saharan Africa must provide evidence of a valid yellow fever vaccination prior to entry. The South American countries include Bolivia, Brazil, Colombia, Ecuador and Venezuela.
The most authoritative and up-to-date information on Costa Rican entry and exit requirements, including visa information, may be obtained from the Consular Section of the Embassy of Costa Rica at 2114 "S" Street, NW, Washington, DC 20008, telephone (202) 234-2945/46 , fax (202) 265-4795 ,
e-mail
,
web site
, or from the Costa Rican consulates in Atlanta, Chicago, Houston, Los Angeles, Miami, New Orleans, New York, San Juan (Puerto Rico), San Francisco, and Tampa.
The Costa Rican immigration agency maintains a web site
. It is advisable to contact the Embassy of Costa Rica in Washington or one of Costa Rica's consulates in the United States for specific information regarding customs requirements before shipping any items."
IMMUNIZATIONS & INSURANCE INFORMATION
Students are responsible for obtaining all immunizations required by the U.S. Public Health Service for Costa Rica as well as the student's medical condition and history.
All students will be required to have international medical, accident, and evacuation insurance and must sign the HSU Insurance Agreement and Release prior to leaving for Costa Rica.
Emergency contact information must be provided to instructors no later than one month prior to the start date of the program.

Health & Safety
Central to any study abroad program is immersion in a new culture and surroundings, which can be difficult at times. Cultural sensitivity and cultural transition discussions will occur during orientation sessions and will be a dominant theme throughout the program.Students are expected to act in a mature and responsible manner. The program staff may send home any individual whose conduct, in the opinion of the program staff, is detrimental to the program or to the other students. This includes uncooperative or disruptive behavior, alcohol abuse, illegal drug use, and failure to perform satisfactory academic work. Fees will not be refunded if a student is asked to leave the program early.
The avoidance of any illegal drug use, drug purchase, or drug sales cannot be stressed enough. Costa Rican officials inflict severe penalties on foreigners breaking domestic laws, especially illegal drug use. Students are cautioned that a foreign passport and ignorance of local laws will not protect them nor is it likely that anyone from the program or the U.S. Embassy/U.S. Government (or other embassies) be able to provide assistance if they are arrested or convicted for drug use or other crimes.
The field activities take place in a tropical forest environment with poisonous/venomous insects, spiders, snakes, and other animals. The field site also has wild felids. Students undergo training prior to and during field excursions on avoiding potential dangers. In addition to being vigilant and avoiding contact with potentially dangerous animals, students are not to walk off trail without supervision and without wearing appropriate clothing (such as high-ankle boots). No student is to walk trails alone or walk trails in groups without first informing and obtaining permission from the course instructors.
Participating students should be in good health, and should have a medical examination prior to departure to Costa Rica. Students are responsible for obtaining all immunizations required by the US Public Health Service for Costa Rica as well as the student's medical condition and history. Students can find information on vaccinations and health precautions at the
Centers for Disease Control and Prevention's website and the World Health Organization's (WHO) web site.
Students are required to register with the
State Department prior to leaving for Costa Rica.
Program participants should purchase all prescription medicines needed prior to leaving for Costa Rica, and should bring spare pairs of glasses and/or contact lenses if they wear them.
Students must provide a copy of their passport and emergency contact information to instructors (deadline March 1, 2014).
Resources Provided by the Program to Support the Health of Students
La Selva Biological Station has snake bite and first aid kits that may be used for participants on the program. The biological station also has telephones and radios to contact local medical personnel, a local clinic, and a regional hospital, if needed.
In-Country Medical Facilities
The following information was obtained from the
U.S. Department of State, Bureau of Consular Affairs on Nov 7, 2007.
"First aid and snake bite kits are available at the La Selva Biological Station. Major medical care is available in San Jose, approximately two hours from La Selva. Medical care in San Jose is adequate, but is limited in areas outside of San Jose. Most prescription and over-the-counter medications are available throughout Costa Rica. Doctors and hospitals often expect immediate cash payment for health services, and U.S. medical insurance is not always valid outside the United States. A list of local doctors and medical facilities can be found at the website of the U.S. Embassy in San Jose. An ambulance may be summoned by calling 911. The best-equipped ambulances are called unidad avanzada. Ambulance service in Costa Rica does not meet US standards, and response time is unreliable."
Evacuation Procedures for Specific Location (Medical and Other)
There are vehicles at La Selva at all times for use in medical or other evacuations, and the instructors will have a four-wheel-drive rental vehicle available at all times for emergency purposes. In the case that a major evacuation of the field station is necessary, all personnel with follow protocols set by the Field Station Directors (on site). Large and small-scale evacuation via air travel is possible through the San Jose National Airport and students are required to hold international travel insurance while on the program in Costa Rica.
The Political Climate of the Country/Location
Costa Rica has no army and as such is relatively safe in terms of world politics and potential terrorism. The following information was obtained from the U.S. Department of State, Bureau of Consular Affairs.
"There have been no recent acts of terrorism in Costa Rica. Visitors to Costa Rica may experience the effects of civil disturbances such as work stoppages and strikes. Although infrequent, these acts can create inconveniences for visitors."
Environmental and Natural Disaster Risks
Costa Rica is potentially subject to earthquakes, volcanic activity, and flooding.
La Selva is a tropical wet forest with a lot of rain, high humidity and temperatures that may rapidly fluctuate between very hot and chilly. Students are cautioned to be prepared for hiking and other outdoor activities in inclement weather (rains), heat and humidity.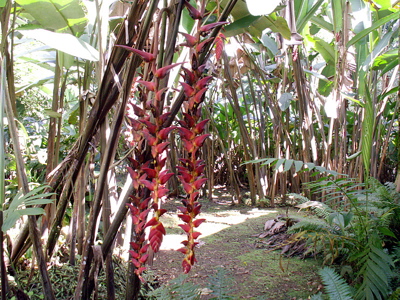 Security Issues at the Program Site(s)
Airport/San Jose/Park Inn Hotel:
Costa Rica is a popular tourist destination and thus visitors are a potential target for petty theft and pick pocketing. While in the city (San Jose), students are cautioned to keep their belongings in sight and avoid 'advertising' that they are carrying items of value. The following information was obtained from the
U.S. Department of State, Bureau of Consular Affairs
:
"Travelers should ignore any verbal harassment, and avoid carrying passports, large amounts of cash, jewelry or expensive photographic equipment. Tourists are encouraged to carry photocopies of the passport data page and Costa Rican entry stamp on their persons, and leave the original passport in a hotel safe or other secure place."
As students are to provide their own transportation to and from the airport and the Park Inn Hotel, they are cautioned to use only official taxis. The following information was obtained from the
U.S. Department of State, Bureau of Consular Affairs
:
"Travelers should use licensed taxis, which are red with medallions (yellow triangles containing numbers) painted on the side. Licensed taxis at the airport are painted orange. All licensed taxis should have working door handles, locks, seatbelts and meters (called "marias"); passengers are required to use seatbelts. When traveling by bus, avoid putting bags or other personal belongings in the storage bins."
La Selva Biological Station
As La Selva is a biological research station away from the city, it is fairly safe and devoid of crime. However, common sense should be used at all times, especially at night. Students may visit the restaurant at the periphery of the La Selva field station, but no student should travel away from the field site alone. Identification should be carried at all times. When not on their person, students should leave valuable items in the lockable storage cabinets in their cabins.
Students must provide a copy of their passport and emergency contact information to instructors (deadline March 1, 2015).